UK
United Kingdom
Your shopping cart is empty!
0
What is bog oak?
16.04.2019
&nbsp 21320
Black bog oak is a remarkable, rare and valuable type of wood. No wonder his production compared with the development of precious stones and metals. This is a troublesome and expensive process, which, of course, affects the final price of the product. For centuries, an elite furniture that adorns expensive classrooms, aristocratic salons and museums have been produced from bog oak.
Why is bog oak highly valued?
Certainly, it amazes and fascinates its appearance: various shades of gray and black, beautiful patterns of textures, beautiful playings. It has also excellent characteristics: extreme strength and durability. Due to the long process of staining (namely, the interaction of tannins with metal salts without oxygen access), oak wood for many centuries is saturated with metals. In essence, it becomes "metallic" by 10, 20, 30%, depending on the concentration of salts.
But that's not all! It is most fascinating to imagine HOW exactly this particular tree has acquired such look and qualities. As each such oak first grew and gained weight for hundreds of years. As the river bed of the mighty river subsequently changed its direction, it was flushing its roots, the tree fell and turned out to be under water. There it could lie more than a thousand years! So, in 1960, during the excavation of peatlands in Ireland, there were discovered oaks, whose age (according to radiocarbon analysis) ranged from 4 to 7 thousand years!
In fact, in the world, there are not too many resources of natural black oak. That is why this raw material is especially valuable.
Below you can see a few of our bog oak tables. The photo shows "Magma", "Volcanic ash", "Volcanic ash" (round shape), "Vesuvius".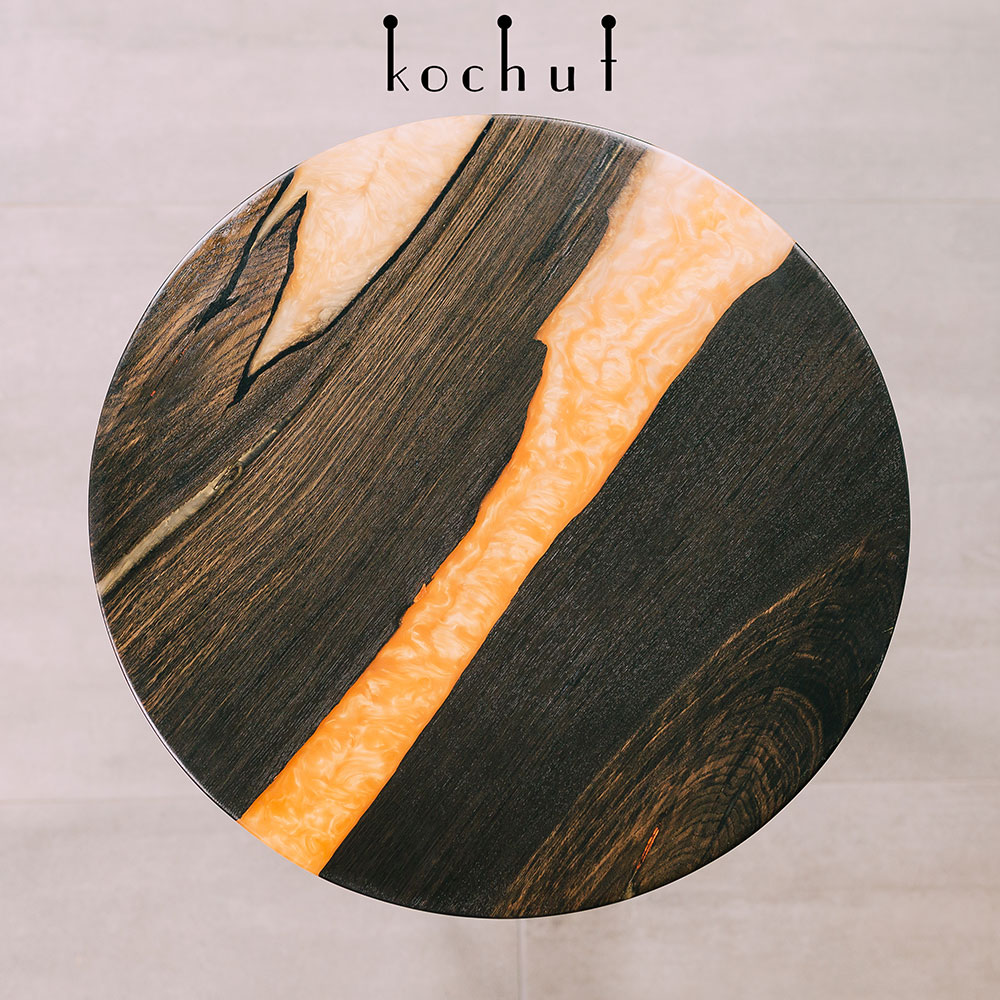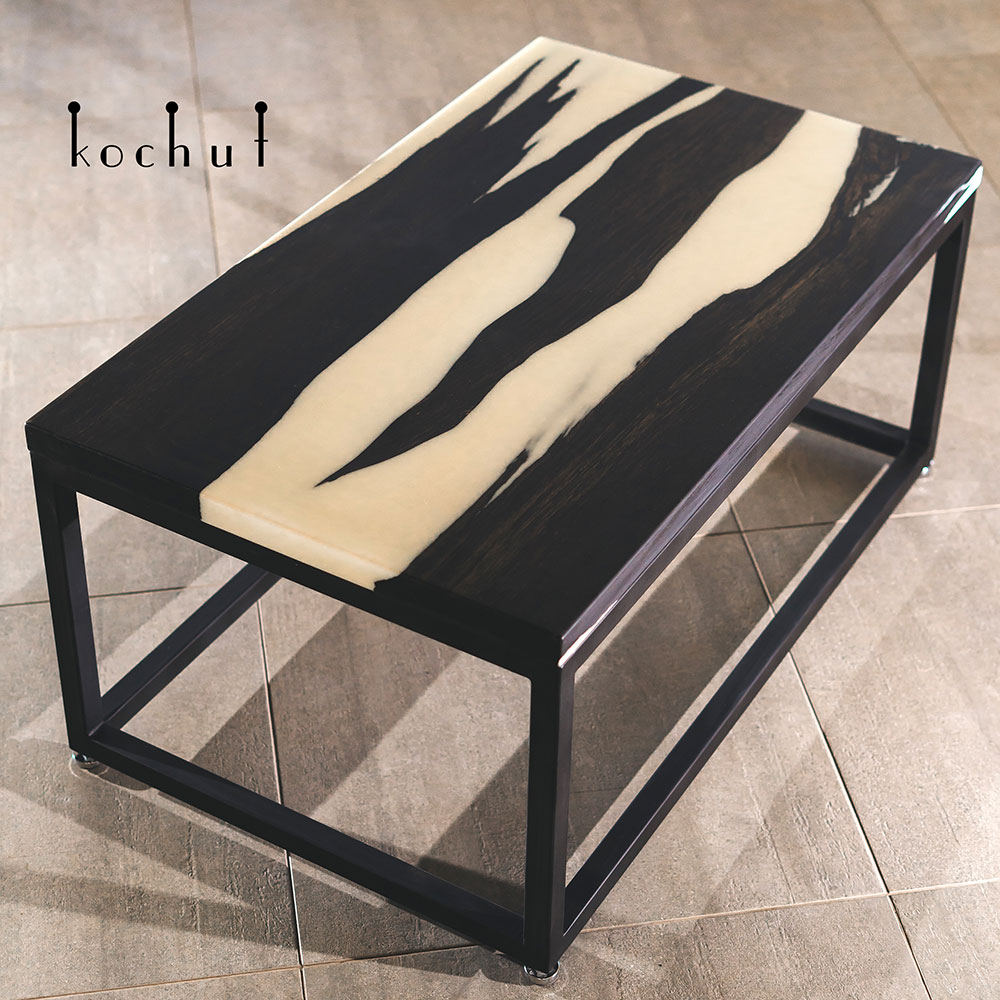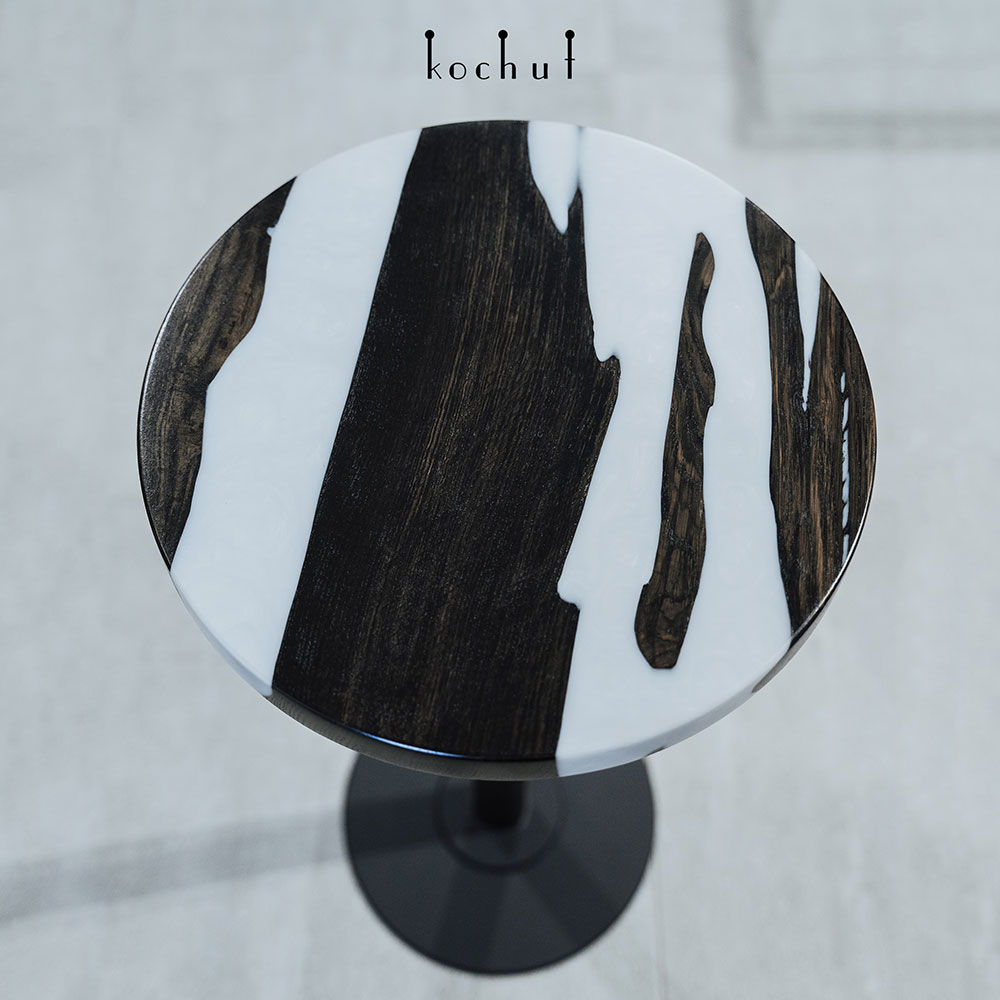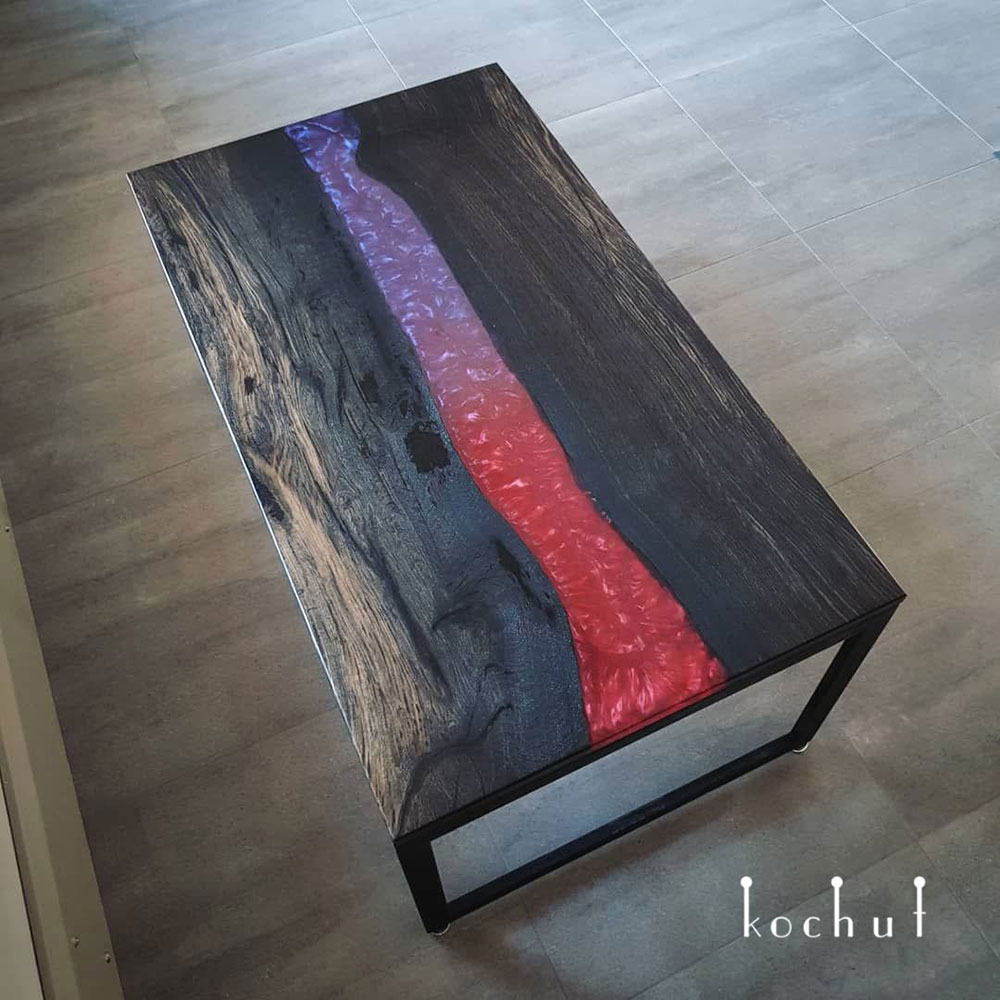 What difficulties arise in the manufacture of wooden table of bog oak?
From the previous blog, dedicated to the features of the selection of wooden arrays, you learned about the importance of preparing a tree for work. In this case, bog oak isn't an exception.
If you have read thoughtfully, you probably realized that the difficulty lies in the high moisture. After all, not every tree lies in the water for more than 600 years.
What is the difference between real and manufactured stained oak?
1. Texture. Reaching the coal color in a synthetic form will not be a big problem. A certain kit of chemical items can easily cope with this task and does not require the tree to lie at the bottom of a lake or river for a hundred years. It should be noted that the less oak lies in the water, the lighter the color will be. Even when the tree is more than three hundred years old, it still does not get the coal color. But synthetic bog oak will never have a unique texture. After all, a tremendous amount of irregularities, streaks, silver-golden color are characteristic only of natural moraine oak.
2. Environmental friendliness. Current trees grow in other conditions. Previously, there haven't been numerous factories, cars and flights into space. Synthetic bog oak will never be environmentally friendly. After all, it is influenced not only by chemical treatment but also by the conditions in which it grew. Natural wood all the time lay underwater, with a completely different climate, where there is no polluted air or other chemical impurities.
3. Price. Synthetic bog oak is much cheaper than real. And the reason is simple. A big difference in price arises due to the works that are made to extract it.
A bog oak is a child of nature to whom the hand of man has nothing to do
What is bog oak for us?
Everyone who works with a tree, notes that a bog oak has a specific energy that is difficult to describe or explain, but which is immediately felt by those who are nearby. This energy cannot be artificially "simulated" or forged. No synthetic dyes or thermochemical treatment will not be able to endow a tree with that particular spirit that nature has provided it for thousands of years.
We are convinced that our tables, made of natural stained oak, can become real precious decorations of your interior.
Leave a comment via Facebook:
Privacy Preference Centre
When you visit any website, it may store or receive information from your browser, primarily in the form of cookies. This information may relate to you, your preferences, your device, or be used to make the site work as expected. The information is not typically used to identify you, but it can give you a more personalized web surfing experience. You may choose to disallow or prevent some types of cookies from working. Click on the different category headings to learn more and change the default settings. However, you should be aware that blocking some types of cookies may affect your experience on the site as well as the services we can offer. More Information.
Required Cookies
Always Active
These cookies are essential for the website to function and cannot be turned off. They are usually only triggered in response to actions taken by the user such as requesting certain services, setting privacy preferences, logging in or filling out forms. You can set your web browser to block or warn you about these cookies, but the site will then lose some of its functionality. These cookies do not store personally identifiable information.
Performance and Analytics
These cookies allow us to count the number of visits to our site as well as traffic sources so that we can measure and improve its performance. They help us find out which pages what visitors are viewing with frequency and which are among the least popular. All of the information that these cookies collect is integrated and therefore anonymous. If you do not allow the use of these cookies, we will not know when you entered our site and will not be able to improve its performance.
These cookies allow the website to provide enhanced user functionality, which makes your browsing experience more personalized. They can be installed either by us or by third parties whose services we have added to our pages. If you do not allow the use of these cookies, some or all of the services may not work correctly or at all.
Advertising and Social Media
These cookies may be used by our advertising partners through our website. They can be used to profile your interests and display your advertising interests on other sites. These cookies do not directly store personally identifiable information, but rather identify your web browser and device. If you do not allow the use of these cookies, you will receive fewer personalized advertisements.