UK
United Kingdom
Your shopping cart is empty!
0
All about choosing an epoxy paint color
28.06.2019
&nbsp 14174
Selecting an epoxy fill is not as easy as it might seem at first glance. Some believe that everything happens according to the scheme: chose color -> add dyes to epoxy resin -> fill. However, in practice, it's not so simple. There are also many nuances, as in the selection of wood.

Realizing that this is not an easy task, we decided to prepare for you an article about how to chose the color of epoxy potting. You will notice:
1. Types of epoxy potting
2. How to choose an epoxy potting
3. Epoxy Coating
Types of epoxy potting
When designing any table with epoxy, first of all, it is important to determine the type of fill. After all, each of them has a number of features. We distinguish 3 main types of fillings:
1. Opaque. Externally, these tables look like wood slabs that are combined with a layer of plastic. The side tables "Snow of the Desert" and "Volcanic Ash" demonstrate this effect. The peculiarity of this type of coating is that the fill is NOT translucent. Whatever your light, no matter what angle you choose, however, the light rays will not be able to pass through it. This feature allows you to use a wide palette of colors, since it is much easier for an opaque fill to display the desired color.
However, for an opaque fill, it's possible to regulate the concentration of the color. "Snow in the desert" as an example of pouring with high concentration, and "Misty river" with low.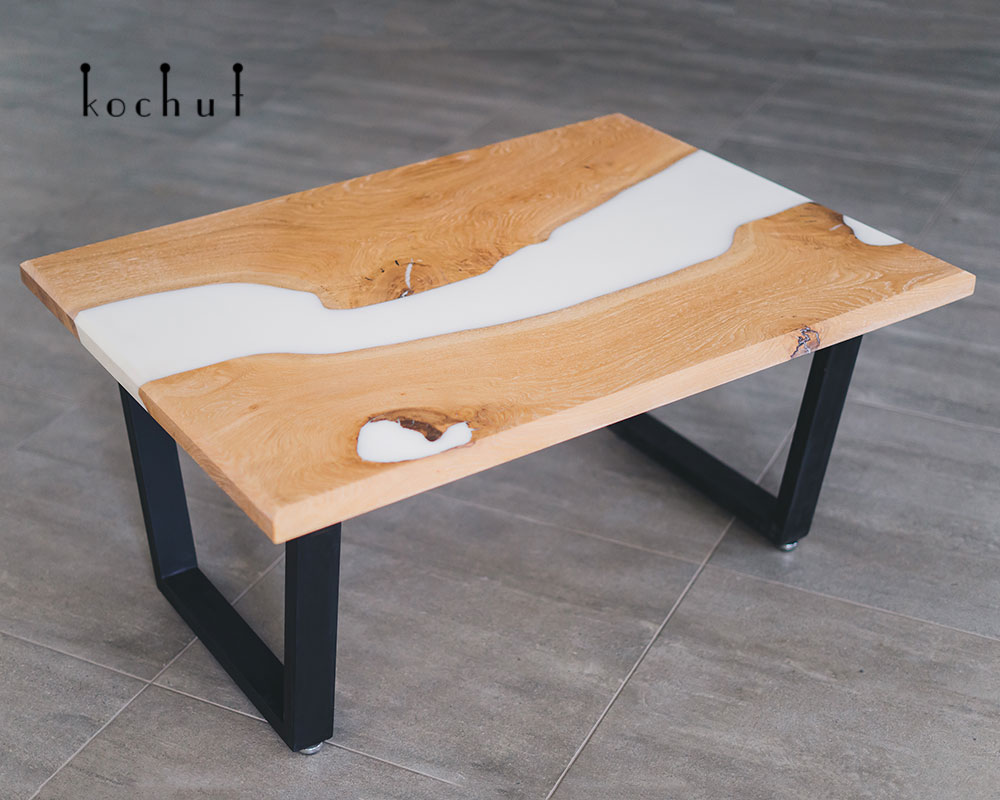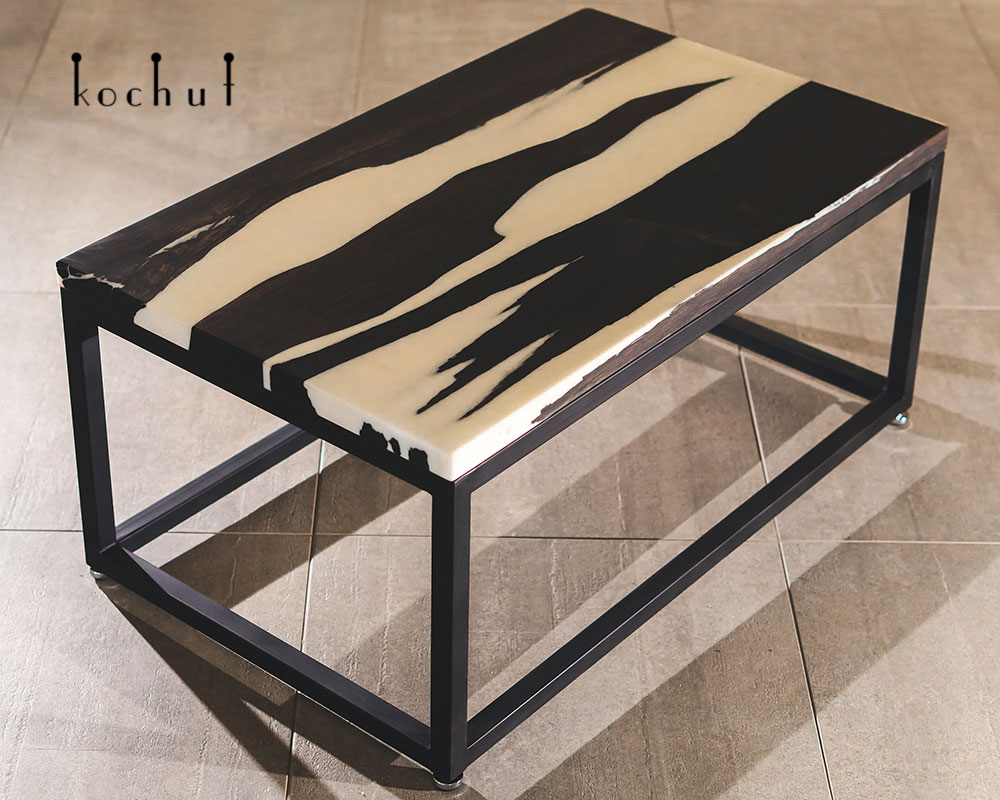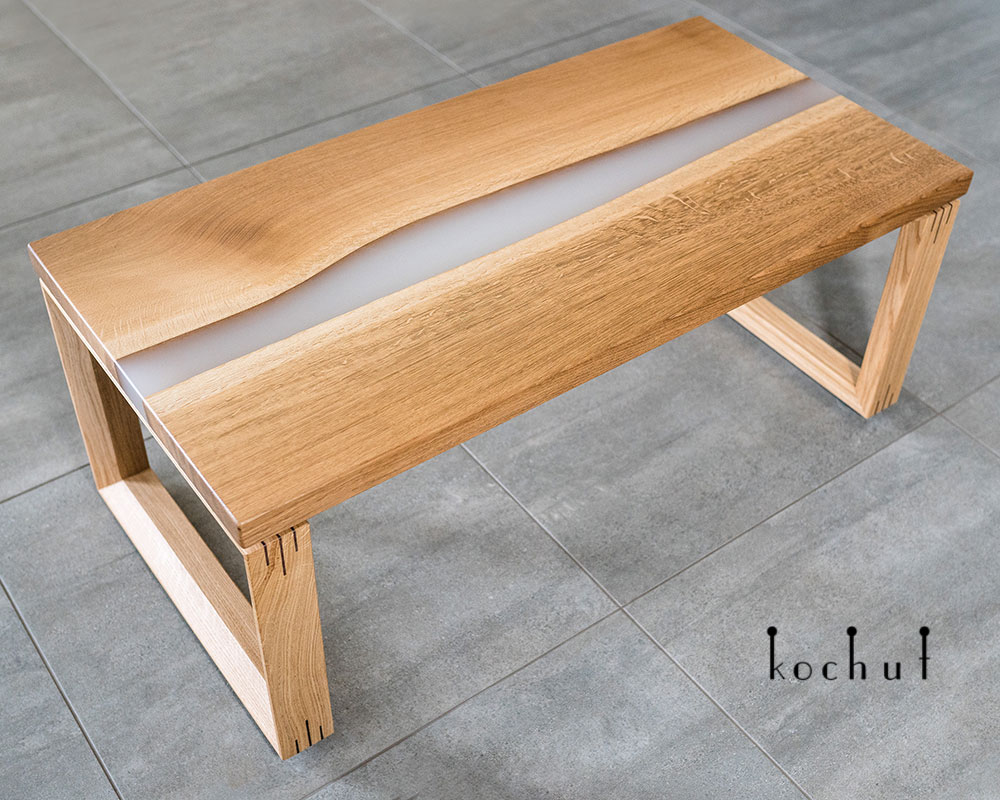 2. Nacre. This is a fill with different shades of colors, which reminds the flow of air. This effect can be achieved by adding the pearlescent powder to the epoxy resin. As with the previous type, changing the concentration of the powder can be made so that the pearlescent epoxy is translucent or not translucent.
3. Transparent. Transparent epoxy shines through any colors. Even if you bring out the extra black color, the light rays will still pass through it. The disadvantage is the limitation in the color palette, since the transparent color is taken as the basis.
How to choose epoxy fill?
Most beginners and amateurs who create an epoxy filled table do not take into account the thickness of the tabletop. This factor is extremely important because the color of the epoxy will depend on it. For example, if the epoxy layer is 1 centimeter, then its color will be colorless. If 10 cm — blue. This feature makes it very difficult to predict the fill color, but this is still a very realistic task.
"For an opaque fill, thickness will not matter"
Also no less important factor is the light in the room. When poorly lit, the tables with dark fills (dark green, dark blue, etc.) will look like they have a black epoxy finish. Therefore, in such situations, it is better to dwell on light shades. However, if the interior requires only dark ones, then pearl shading would be an ideal choice, since it contrasts beautifully and is not lost when it is dimly lit.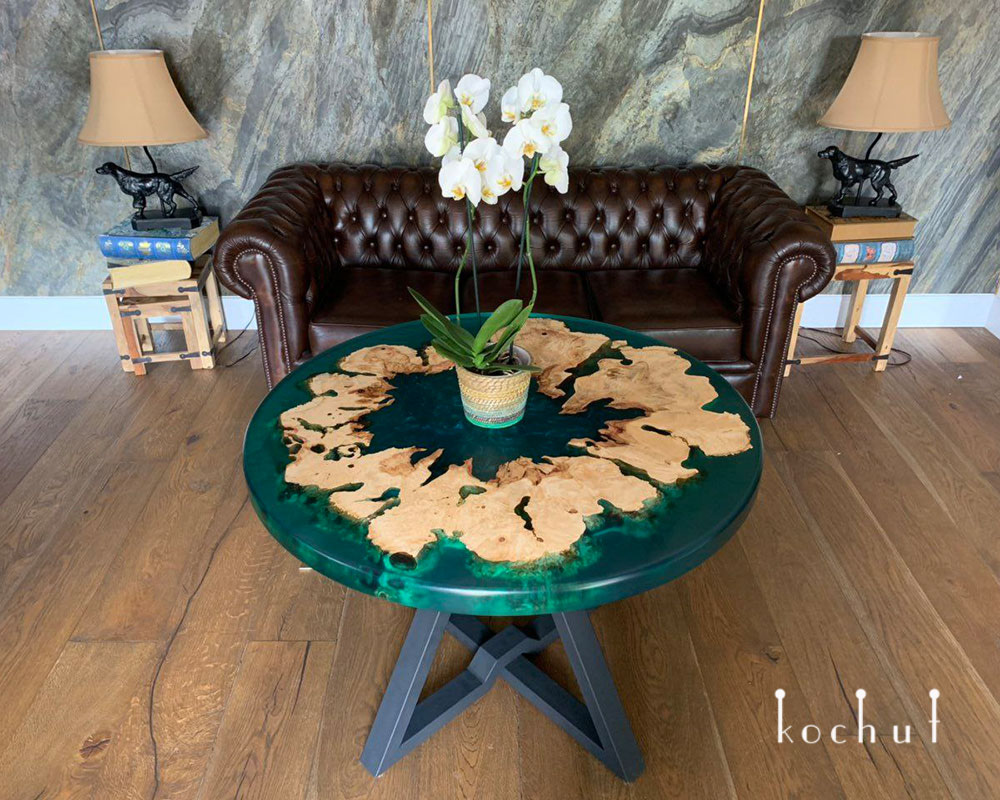 Epoxy potting treatment
At the final stage of making a river table, epoxy casting provides a special treatment, after which the epoxy becomes matte or glossy. What is it done for? Imagine that you want a table with a transparent fill, but you do not like that you see the mounting details or the legs of the guests. With a matte finish, the contours will become blurred and inaccurate. In practice, it exactly copies the effect of frosted glass.
Leave a comment via Facebook:
Privacy Preference Centre
When you visit any website, it may store or receive information from your browser, primarily in the form of cookies. This information may relate to you, your preferences, your device, or be used to make the site work as expected. The information is not typically used to identify you, but it can give you a more personalized web surfing experience. You may choose to disallow or prevent some types of cookies from working. Click on the different category headings to learn more and change the default settings. However, you should be aware that blocking some types of cookies may affect your experience on the site as well as the services we can offer. More Information.
Required Cookies
Always Active
These cookies are essential for the website to function and cannot be turned off. They are usually only triggered in response to actions taken by the user such as requesting certain services, setting privacy preferences, logging in or filling out forms. You can set your web browser to block or warn you about these cookies, but the site will then lose some of its functionality. These cookies do not store personally identifiable information.
Performance and Analytics
These cookies allow us to count the number of visits to our site as well as traffic sources so that we can measure and improve its performance. They help us find out which pages what visitors are viewing with frequency and which are among the least popular. All of the information that these cookies collect is integrated and therefore anonymous. If you do not allow the use of these cookies, we will not know when you entered our site and will not be able to improve its performance.
These cookies allow the website to provide enhanced user functionality, which makes your browsing experience more personalized. They can be installed either by us or by third parties whose services we have added to our pages. If you do not allow the use of these cookies, some or all of the services may not work correctly or at all.
Advertising and Social Media
These cookies may be used by our advertising partners through our website. They can be used to profile your interests and display your advertising interests on other sites. These cookies do not directly store personally identifiable information, but rather identify your web browser and device. If you do not allow the use of these cookies, you will receive fewer personalized advertisements.